Fire and Smoke Damage Restoration

Fire is one of the most detrimental environmental influences for a home or commercial property. Fire will turn all items into fuel and either burn them away or damage them beyond repair. The smoke from the fire contains various chemicals that can cause permanent damage to the contents if improperly handled.
The hazards of a fire in a residence or commercial structure are exponential and can range from health and environmental issues, contamination, and dangerous off-gases. When a fire starts in a property, it begins to turn nearby items into fuel to continue its burn and increase its flame. Household items these days made of various types of plastics, metals, proteins, and other materials give off a variety of chemicals when burned. Once turned into smoke and ash, these chemicals can contaminate household items and start to cause discoloring, etching in glass, and irreparable damage. The materials need to be handled and cleaned by professionals who understand fire and smoke residue and the correct processes for cleaning them. Treating the items within the right timeframe will minimize the damages and potentially save a lot of personal belongings.
Cleaning Fire and Smoke Damaged Property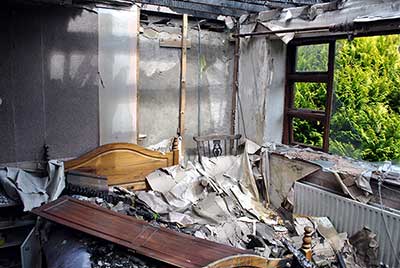 The homeowner needs to call us immediately if there is smoke and ash residue inside their property. We advise the homeowner does not maintain a presence in smoke and ash contaminated areas as it can cause serious health problems. The homeowner should also not try to clean the smoke damage themselves as they can cause further damage to the items and cross-contaminate the property when moving to non-contaminated areas. The best step is to call a specialist who knows the intricacies of fire and smoke damage. The Contents Specialists will clean and deodorize the property of any odors or contaminants.
Recovering Fire and Smoke Damaged Items
If not promptly handled, the smoke and ash from the fire will cause a large amount of progressing damage to the property. Smoke, when left to settle into items, will discolor the materials and start to turn them yellow or white. This process is due to the various chemicals released during burning. Some chemicals carried by smoke include formaldehyde, benzene, acetic acid, formic acid, toluene, oxides of nitrogen, carbon monoxide, methane, VOCs, sulfur dioxide, plastics, and other harmful chemicals. Smoke is corrosive and will quickly damage a wide range of collectibles if not handled appropriately. The longer the ash and soot sit on items, the more likely they will be ruined and require disposal. Don't wait. Call The Contents Specialists today!
253-277-3114